Hello LKS Families.
We hope all of you are healthy and safe. As May comes to a close, I was reminded today by my Outlook Calendar that tomorrow would have been our annual LKS Springfest … nothing more for me to say about that one other than we all need to stay positive, enjoy the weather, and thankful for our amazing community even from a distance.
In this weeks 'lengthy' LKS Connected.
Well-Being and Mental Health Resources
Retirement Reminder
Parent Council Pizza Lunch Survey
Student/Parent Access to LKS
LKS Connected – Where's the LKS Staff
1. Well-Being and Mental Health Resources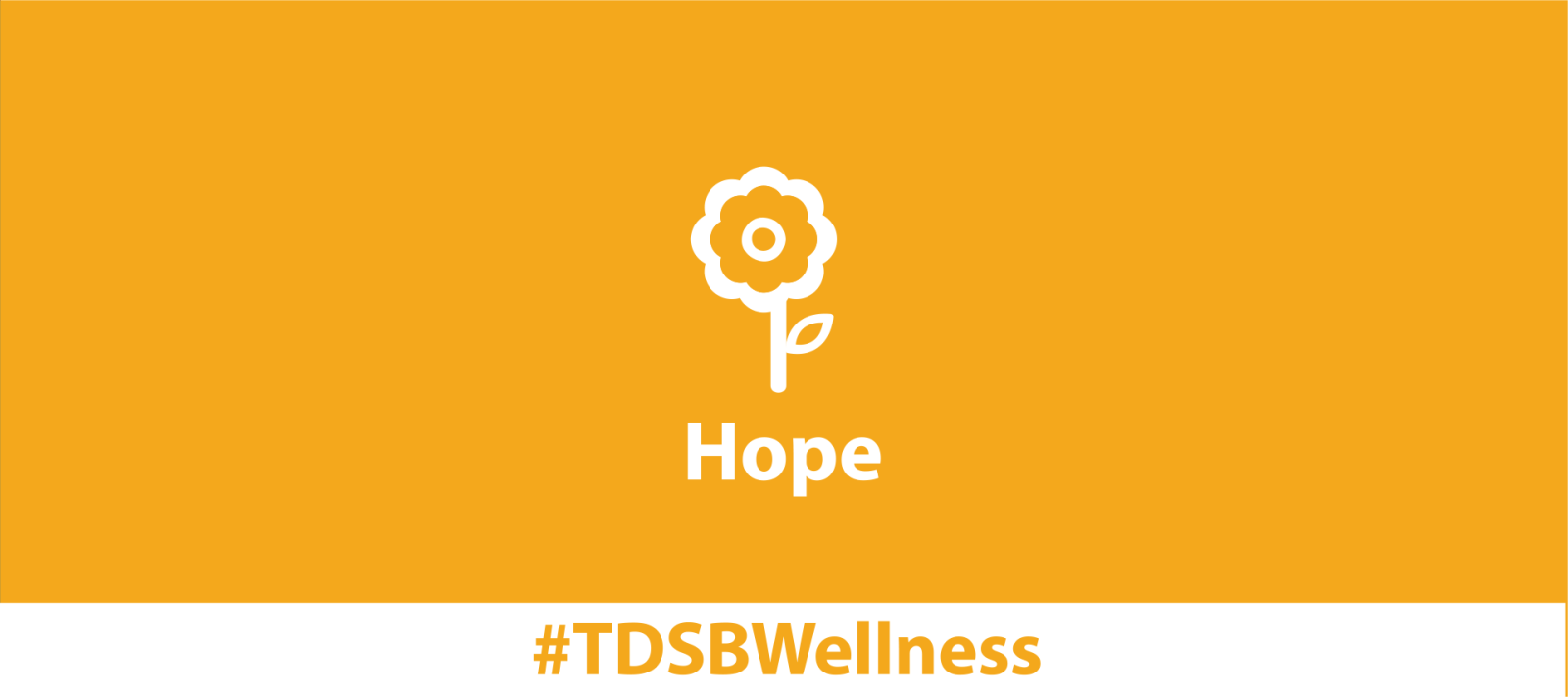 Hope is an expectation that good things will happen. While it may be hard to even consider such an expectation during a global pandemic, research shows that hopeful individuals do well under difficult circumstances. We can move in and out of feelings of hope. But looking to small milestones or bright spots can help improve your outlook and well-being.
Here are some ways to instill and maintain hope during this challenging time:
Embrace challenges as best you can
Notice simple actions that inspire you or give you a glimpse of joy
Try to focus on things day by day, moment by moment
Laughing can make you feel better and can create hopeful moments
Student Activities:
A Message of Hope to our TDSB students TikTok Messages of Hope. A challenge for our students: keep passing on messages of hope to others!
Activity: "The first thing I'll do is…" Share your idea of hope on social media, post it at the The Good Viral, hang it on your window, wall, fridge door, draw it on the sidewalk in chalk.
Listen to a song or video that inspires you or gives you hope
2. Retirement Reminder
As strange as this year has been, next September will be even stranger without seeing the smiling and caring faces of Ms. Iafrate and Ms. Hall in our Kindergarten hallway. As you may know, they are both retiring at the end of this school year. We would usually have an opportunity to present them with a gift and give them a huge LKS farewell applause from all of the students in an assembly. If we are not able to do that this year, we wanted to send them a virtual thank you card from all their current and former students. We are hoping that your child(ren) would create a sign or poster for one or both of these fabulous teachers to congratulate them on their retirement and to say thank you. Please take a picture of your child(ren) holding their sign/poster and send it to kimm.norton@tdsb.on.ca. This is for all of our LKS students but especially current and former students of Ms. Iafrate and Ms. Hall. When you send Ms. Norton the picture, please indicate if it is for Ms. Iafrate, Ms. Hall or for both. Please submit your pictures by Monday, June 1st .
3. Parent Council Pizza Survey – Pizza Lunch – We Want to Hear from You!
Please take a few minutes to complete the brief survey (15 questions) on Survey Monkey. Your responses are anonymous and will help the LKS Pizza Committee and Parent Council plan for the next school year. Each year the money raised from Pizza Lunch contributes a significant amount to the overall budget for the school and we are very appreciative for the parent participation both financially as well as volunteering. We look forward to your input.
The survey will be open until June 3rd, you can complete it by clicking here: https://www.surveymonkey.com/r/W2BTGRT
Your feedback is important and we look forward to hearing from you.
Stephanie Bournakas & Krista Harrison
LKS Pizza Committee
4. Parent Access to LKS
We have established a process, using TDSB guidelines approved by Toronto Public Health, parents to come into the school, should you wish to do so, to collect anything left behind and as well as to return any outstanding items. Technology devices that belong to the TDSB should not be returned at this time.
Our process will follow all physical distancing requirements, which means that it will take some time for everyone to have the opportunity to come in. I want to stress that we are being as responsible as possible in how move through this process and that the number of people who can be in our school at a given time is well below what is recommended by Toronto Public Health. Please note that masks or face coverings will be required to enter the building. A limited number will be available but you are encouraged to bring and wear your own. We appreciate your patience and support as we work through this together.
We will be offering 15 minute windows for parents/guardians to come in between June 10 and June 16, 2020 between the hours of 9:00 a.m. and 3:00 p.m. Please only one person per family. Between June 3, 2020 at 9:00 a.m. and Friday, June 5 at 12:00 p.m. parents will be able to book a time to come in according to their child's teacher. You will have some options but the schedule is set to allow for distancing throughout the building. We will be using the same platform we use for booking interviews, https://www.schoolinterviews.ca/, and the code and further information for accessing will be provided via e-mail on Monday, June 1, 2020.
If you are feeling unwell, please do not come to the school. Before entering the building, you will be asked to conduct a self-assessment for any COVID-19 related symptoms, including fever, cough and runny nose and that you have not been in contact with anyone who has tested positive for COVID-19.
When you arrive at the school at your designated time, please:
conduct self-screening measures
enter through the designated doors
use hand sanitizer and wear a mask or face covering (limited masks are available but you are encouraged to bring and wear your own)
respect all physical distancing requirements, staying at least 6 feet away from others
drop off any items at the entry (include your child's name, teacher and list of items returned) – this included any school items, textbooks, library books, etc.
retrieve belongings from classroom, portable or locker quickly
put any garbage in the bins provided
exit school property promptly
Should you not wish to retrieve or deliver anything, or someone else will be picking up on your behalf, please let us know. Non-essential items, such as notebooks and pencils, that are not picked up will be discarded. Clothing and personal items will be packed up and stored until the fall.
We know this is not the way we expected to end the school year but I appreciate your support in making this process as smooth and efficient as possible. We are already looking ahead to the fall when we can be together again in hopefully a more familiar way.
5. LKS Connected – Where's the LKS Staff
Now time for some fun. Please see the attachments below … Where's the LKS Staff and the answer guide, LKS Staff Hidden in the Picture. A big thank you to our staff and the Mrs. Heath for putting this great adventure together! Have fun trying to identify all of your favourite LKS staff and no cheating!!
LKS Staff Hidden in the Picture.pdf
Enjoy the weekend, stay safe, and please look for our e-mail about access on Monday.
John and Kimm